Air Force researchers to test high-power microwave weapon to destroy or disable swarms of unmanned aircraft
Tests have been at White Sands Missile Range in New Mexico and Kirtland Air Force Base in Albuquerque with Raytheon, BAE Systems, Leidos, and Verus Research.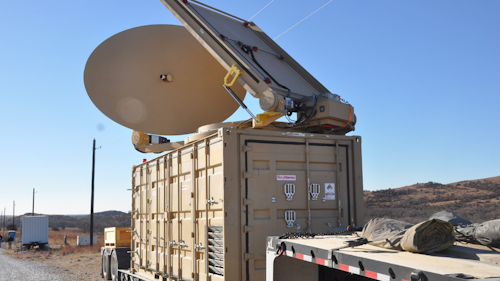 KIRTLAND AIR FORCE BASE, N.M. – The U.S. Air Force Research Laboratory at Kirtland Air Force Base, N.M., is investing $16 million in further field assessment of Raytheon's Phaser High Power Microwave System outside the continental U.S. Defense Update reports. Continue reading original article
The Military & Aerospace Electronics take:
14 Oct. 2019 — The testing phase will span over 12 months in which the Phaser will engage simulated and real unmanned aerial vehicle (UAV) threats. The evaluation will explore the effectiveness of Phaser's counter-drone engagement without disrupting the necessary installation operations.
The effectiveness of Phaser against drone swarms already has been demonstrated at the Army MFIX exercise in 2018, when the system eliminated 33 drones, two to three at a time. Currently mounted on a shipping container-like box, Raytheon plans to reduce the size significantly in future versions.
AFRL already evaluates two other high-power microwave systems — the Tactical High-Power Operational Responder (THOR), that deploys as a means to provide base defense against drones, and 'Counter-Electronic High-Power Microwave Extended-Range Air Base Air Defense' system, or CHIMERA, designed to engage multiple targets over a larger area.
https://www.militaryaerospace.com/unmanned/article/14068535/high-power-microwave-unmanned-aerial-vehicle-uav-swarms?utm_source=MAE+Wrapup&utm_medium=email&utm_campaign=CPS191017019&o_eid=8098A0466278I0R&rdx.ident%5Bpull%5D=omeda%7C8098A0466278I0R&oly_enc_id=8098A0466278I0R
Dr. Hans C. Mumm