China developing armed unmanned ground vehicles (UGVs) to deploy with fighting forces as combat robots
U.S. requires human in the loop for robots using deadly force, yet have little or no assurance that potential enemies will follow a similar path.
 Jul 14th, 2020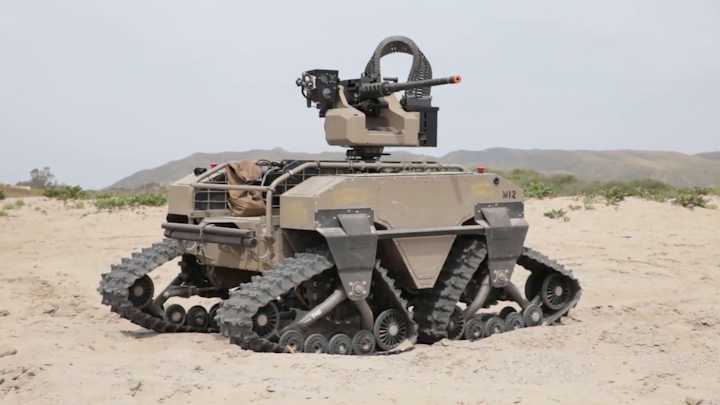 WASHINGTON – The Chinese Army is preparing to deploy small tracked unmanned ground vehicles (UGVs) armed with machine guns, night-vision, missile loaders, and cameras to launch attacks while leaving manned systems at relatively safe stand-off distances. Kris Osborn of Warrior Maven reports. Continue reading original article
The Military & Aerospace Electronics take:
14 July 2020 — Citing a China Central Television segment on the robots, People's Online Daily reports that the thigh-high armed robot looks like a small assault vehicle. Target practice results showed the robot has acceptable accuracy.
The report stresses that humans will control the robots, it is unclear if the robots merely are remote controlled or if they operate with some measure of autonomy. As a small tracked vehicle, the robot is built to traverse rugged or uneven terrain and operate as a forward-positioned weapons node for ground attacks.
The U.S. Army's UGVs increasingly are capable of much greater levels of autonomy and Army leaders say they plan to operate most of its combat formations with robotic systems functioning alongside or in tandem with manned platforms.
https://www.militaryaerospace.com/unmanned/article/14179433/armed-unmanned-ground-vehicles-ugvs-robots?utm_source=MAE+Unmanned+Vehicle&utm_medium=email&utm_campaign=CPS200714066&o_eid=0218E3643390C5U&rdx.ident%5Bpull%5D=omeda%7C0218E3643390C5U&oly_enc_id=0218E3643390C5U
Dr. Hans C. Mumm