Navy formulating plan to integrate large- and medium-size unmanned combat vessels into naval surface force
Medium-size unmanned ships will carry modular payloads, while large unmanned ships will have vertically launched missiles and other weapons.
 Jan 7th, 2020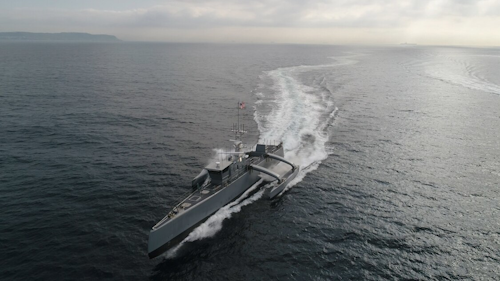 WASHINGTON – The head of the U.S. Navy's Fleet Forces Command has ordered the service's surface force to develop a concept of operations for both the large and medium unmanned surface vessels in development, according to a Dec. 19 message. Defense News reports. Continue reading original article
The Military & Aerospace Electronics take:
7 Jan. 2019 — The message, which was coordinated with U.S. Naval Forces Europe and U.S. Pacific Fleet, directs the surface fleet's Surface Development Squadron to develop concepts for "the organization, manning, training, equipping, sustaining, and the introduction and operational integration of the Medium Unmanned Surface Vehicle and Large Unmanned Surface Vessel with individual afloat units as well as with Carrier Strike Groups, Expeditionary Strike Groups, and Surface Action Groups."
The message comes after a long battle with Congress over funding for unmanned surface combatants, during which lawmakers expressed skepticism that the Navy was knowledgeable enough about the technology for which it was seeking funding. Ultimately Congress appropriated funds for the Navy to buy two large unmanned surface vessels, but lawmakers forbade the service from equipping the vessels with vertical launch tubes, as the Navy intended.
The concepts of operations is meant to define what would be considered "initial operating capability" for the medium and large USVs and goes on to define what those platforms are intended to do.
https://www.militaryaerospace.com/communications/article/14074343/unmanned-vessels-surface-force?utm_source=MAE+Weekly&utm_medium=email&utm_campaign=CPS200107058&o_eid=0218E3643390C5U&rdx.ident%5Bpull%5D=omeda%7C0218E3643390C5U&oly_enc_id=0218E3643390C5U
Dr. Hans C. Mumm