"In addition to modernizing 'legacy' Soviet nuclear systems, Russia is developing and deploying new nuclear warheads and launchers," stated an unclassified draft of the nuclear posture review first published by the Huffington Post.
"These efforts include multiple upgrades for every leg of the Russian nuclear triad of strategic bombers, sea-based missiles and land-based missiles. Russia is also developing at least two new intercontinental range systems, a hypersonic glide vehicle and a new intercontinental, nuclear-armed undersea autonomous torpedo."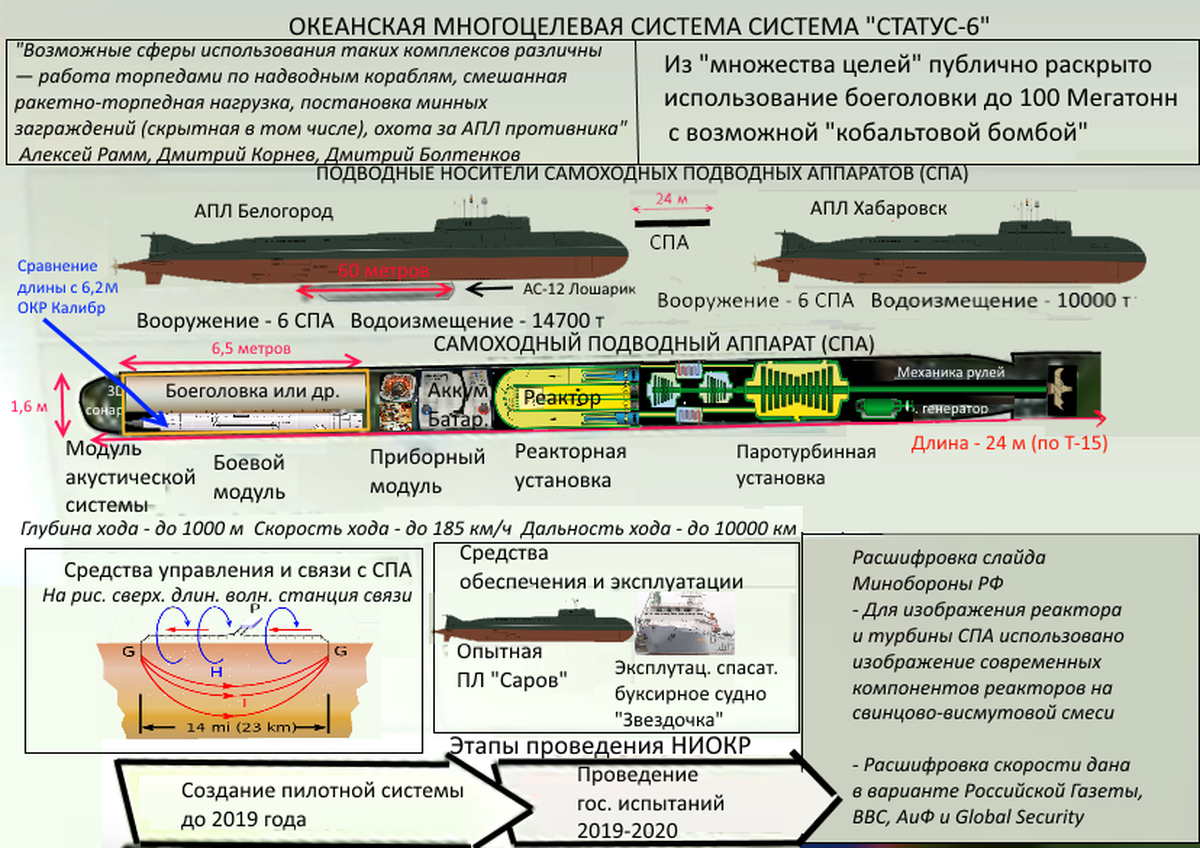 Russia has developed and tested a nuclear-capable underwater drone called Ocean Multipurpose System Status-6.
The black and white graphic posted by the Huffington Post makes it difficult to see whether the capability has been deployed. However, the Russian undersea drone — which is nicknamed "Kanyon" by the Pentagon and goes by the full name Ocean Multipurpose System Status-6 — has been tested at least once.
On Nov. 27, 2016, U.S. intelligence detected Status-6 after it was launched from a Sarov-class submarine used to test and validate new tech, the Washington Free Beacon reported in December 2016, citing unnamed Pentagon sources.
Russian reports indicate it could be outfitted with a 100-megaton nuclear warhead.
Status-6 was built by Rubin Design Bureau, the largest of Russia's three submarine manufacturers. According to a document shown on Russian television, the drone has a range of 6,200 miles, a top speed in excess of 56 knots and can descend to depths of 3,280 feet below sea level, the Beacon reported.
The nuclear posture review reaffirms the United States' commitment to the nuclear triad — or the country's inventory of ballistic missile submarines, ICBMs and nuclear-capable bombers — but offers no sign that the Pentagon is interested in developing unmanned undersea vehicles capable of delivering a nuclear weapon.
However, it has been widely speculated that the Air Force's newest bomber, the B-21 currently under development, could be optionally manned.
The review notes that Russia is increasing the number of platforms that could be equipped either with a nuclear or conventional payload, allowing it to expand its nuclear arsenal without violating the New START treaty. It is also developing a ground-launched cruise missile and has multiple classes of nuclear submarines and varieties of ICBMs and air-launched cruise missiles.
The United States is concerned about Russia's continued development of "increasingly diverse and expanding nuclear capabilities," especially coupled with Moscow's perception that it could conduct a nuclear attack as a way to " 'de-escalate' a conflict on terms favorable to Russia," the review stated.
"These mistaken perceptions increase the prospect for dangerous miscalculation and escalation."
 https://www.defensenews.com/space/2018/01/12/russias-nuclear-underwater-drone-is-real-and-in-the-nuclear-posture-review/
Dr. Hans C. Mumm