Applying Complexity Leadership Theory to Drone Airspace Integration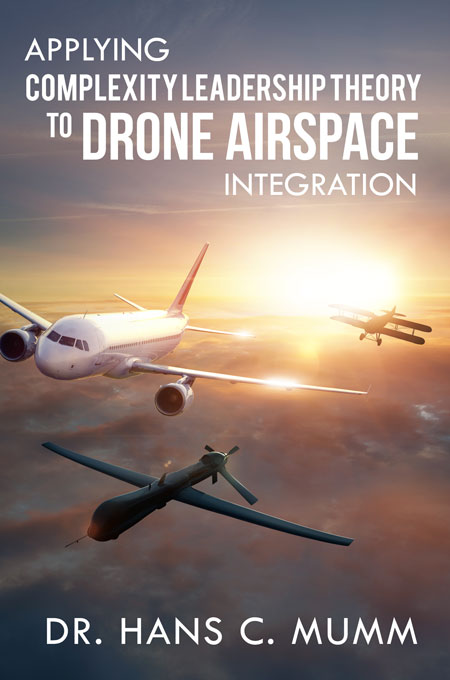 This book examines the leadership challenge created by the requirement to integrate unmanned aerial vehicles (UAVs) into the national airspace system (NAS). The overall lifecycle of leadership does not lend itself to a simple definition or a defined timeline that anyone can follow. As much as society enjoys creating, all of the processes and technology to simplify our lives (although this is debatable), leadership deals with humans and humans are not that simple. The challenge is that the FAA follows a leadership and change management model that is authoritarian, linear, and evolutionary.
What you will learn:
How complexity leadership can solve the policy disconnect between the FAA and the drone user community.
Applying complexity leadership theory will expedite the Federal Aviation Rulemaking Committees decision making processes that are currently linear and authoritarian in nature which is preventing the development of any timely rules for integrating drones/UAVs into the National Air Space.
How complexity leadership creates the vision to the simplest path possible for the drone/UAV community to integrate fully into the National Airspace System.
Reviews latest research in the use and integration of complexity theory leadership as it applies to Drone Airspace Integration
Illustrates the value of implementing, non-linear, non-authoritarian and self-organizing approaches to problem solving.
Book Forward

Dr. Hans Mumm, an American patriot and lifetime promotor of creative problem-solving, offers in this book something rare in an era of rapid, superficial, toss-off communications. He offers deep, new thinking – on several topics of national and global importance. Mumm's central point is that we must open our eyes, and begin recognizing that non-linear solutions are imperative in an irreversibly non-linear world.
We live in an ocean of proliferating, incalculably interactive variables, their numbers and differentiation growing exponentially around us, causing us to rethink how we address the problems presented. This global state of play causes us to wrestle, too, with the accelerating pace at which problems appear. In this new world, decision making and policy leadership are more complex, often carrying higher personal and national stakes, and are not easy arts to practice. Old, seemingly time-tested ways of making decisions, including one-by-one variable identification and plodding moves toward consensus building, are often now instantly incomplete, inadequate, delayed and even dangerous.
In this well-researched, tightly woven volume, the author brings together essential elements of complex decision theory, different types of predictive reasoning, and some jarring technological facts – to make the point that we have to sit up, start looking at the world with new awareness of its complexity, and start taking stock of what this complexity means. Not least, national decision makers – in the public and private sectors – need to rethink how complex systems are designed, and how to more effectively manage the flow, growth, and shift of so many variables affecting so many aspects of so much of our lives.
As technology accelerates, proliferates, and presents new risks to society, we have to meet this mounting change, disorder, and insecurity with more creative and anticipatory problem solving. In the end, Mumm is an optimist, and with good reason. His military, civilian, aviation, policy, and practical experience lead him to apply – and to illustrate how others can apply – complex decision theory to the pace of technology's advance and risks that follow.
His well-sourced study is a deep dive into one vexing policy area, one that seems to continually stump public and private decision makers, testing the balancing act that maximizes technological advancement while preserving public safety. While this book pretends to be about UAVs, and does map a fruitful way forward, helping to disentangle the intersecting worlds of manned and unmanned sky-flying vehicles, my reading suggests that Mumm is onto something bigger.
This one policy area – defining how best to make our skies accessible and safe to all – certainly needs insights and dispassionate thinking of the kind this volume offers. And it will be of special interest, of course, to all those who worry about where the proliferation of UAV's is ultimately leading – to a more secure, or less secure, more convenient or less predictable world in the skies above us. But, this tailored study in complex decision making may have a far wider audience, one that reaches beyond the academic, legal, aviation and policy communities. The idea that underlies this tailored analysis of how to manage and lead in a wild world of proliferating aviation options and objects, is bigger than aviation or even decision-modeling in that world.
What the book chiefly aims to do is to focus on "the leadership challenge created by the requirement to integrate unmanned aerial vehicles (UAVs) into the national airspace system (NAS)," and how "the lack of UAV-related federal rules and regulations is a primary factor prolonging this integration," which in turn carries cascading implications for the country.
Nevertheless, what it also does is lift the cover on a vexing new reality, and thus presents a template for looking at other complex problems. Leaders of all kinds – and we are all leaders in one or another forum, if only in our own lives – must think hard about how to manage, balance and ultimately navigate and influence the ocean of data before and around us, and coming at us at ever higher rates of speed. His volume offers insights on how this overall societal phenomenon might be sorted out. Are there models in nature, science, history, or data analytics that might guide us forward in areas well beyond UAVs?
The answer that Dr. Hans Mumm has offered is, if only by allusion, yes. There are ways to manage and ultimately to lead in a world that seems at once incalculably more complex, less predictable, more insecure, and less given to solutions. And more, there may even be opportunities that lie ahead which enhance, rather than detracting from, our overall security and prosperity. Thus, just as UAVs may one day deliver more humanitarian aid than they do overhead ordinance or surveillance, there may also be ways to reconfigure and align any number of complex variable pools, and currents to better improve the lot of man, and make more predictable the processes by which we govern, lead each other, and under which we live.
As the author notes, "the days of discovering a problem and solving in one easy decision appear to be over," and "actions and reactions … now reverberate with the echo of intended and unintended consequences in a matter of minutes or days not years or decades …" complicating many aspects of life, but in this there is also a wave we may ride to a higher point on the beach, on many and varied beaches. Whether his solutions and complex decision leadership concepts will capture the public imagination, shake policy makers into some rethinking of traditional ways of doing business, or get integrated into the decision process for future UAV use, proliferation, and management I cannot predict. Too many variables!
However, I will say this. Reading this volume, with its thoughtful application of differing schools and lanes of scholarship to one another, leaves me thinking harder, wondering more widely and – in the end – becoming more hopeful that there is new thought afoot. If the problems are more "wicked," and they are, there is also a rising need for robust, non-linear thinking to fully understand, parse, and solve these problems. Dr. Hans Mumm has leaped into the deep end with this volume, and in the process has taken us a long way up the beachhead, helping us all get a better "bird's eye view" of what lies before us – and what we must do to conquer the uncertainties of our non-linear world.
Robert B. Charles, 2015
Former Assistant Secretary of State (under Colin Powell), former U.S. House Staff Director and Counsel (Speaker Dennis Hastert), former adjunct professor, Harvard University Extension School (Government Oversight and Cyberlaw), and current president of The Charles Group LLC, Washington, DC.
Book Endorsements
" In this era of covertly evolving threats to our national and homeland security, and the complicated leadership that is required to manage the safety and security of our society, Dr. Mumm's intellectual and tactical prowess has given us that needed edge in this book.  His work on applying the complexity leadership theory to managing drone airspace, in support of our local and global security affairs, is a paradigm for managing what can be considered an unmanageable political arena."
-Michael L. Hummel, Ph.D. Professor and Chair, Department of Criminal Justice, California University of Pennsylvania
"Dr. Mumm has attacked two extremely difficult problems at the same time: The government bureaucratic regulating methodology and the integration of drones into the U.S. airspace.  He has woven together a brilliant methodology to solve both issues by using complexity leadership theory.  The potential economic impact of drones is enormous and new ideas on how to use them commercially emerge every day. The FAA needs to make a fundamental process shift or be left perpetually at the starting gate.  Congress and industry take note; the same leadership method described here could be used to help solve the most difficult problems facing your organization."
-Jay R. Snyder, Unmanned Systems Visionary and former Director of Air Force Revolutionary Planning.
 "Dr. Mumm's refreshing writing points to all knowledge levels in everything he writes. He is the master of the professional and academic pen, taking complicated concepts and transforming his thoughts into clear, precise scenarios we all can understand. This important subject of drone integration applies to all of us in some way-from business to consumer marketing to our personal lives. It is a thought provoking and enjoyable read."
-Stephanie Miclot, DM, MBA, MFA, Marketing Vice President and Business Professor
"The use of complexity leadership theory to help accelerate change in governmental bureaucracy is brilliant; let's only hope that those leaders will take this book and its posed solutions seriously before something drastic happens with these out of control Drones. When I read through his work I knew this would be very important to our government and we can already see that coming to pass with the White House Drone incident."
– Dr. Bryan Forsyth, Colorado Technical University Professor
"Dr. Mumm is a subject matter expert and scholar practitioner on drone technology. His new work should be a primer for anyone interested in better understanding the applicability of this modern day technology as an instrument for good; while offering caution on the misuse of the same technology for evil. Hopefully those in a position of policy making regarding drone regulation will read this carefully and listen to Dr. Mumm – for the precise reason that he is the guy who wrote the book on the subject!"
-Dr. Bob Touro, Professor – CTU College of Business and Management